Wow..... The rooms turned out just beautiful. However some of these rooms were truly amazing.. Here are some of my favorites.. Enjoy!!
Sherry Hart from
Design Indulgence
....created a space that made me want to stay.
Before
Margaret Norcott over at
Milieu Interior Design Blog
... transformed the entry way..
This girl really knows how to use a can of spray paint....
Nikki McNeil at
SingleBubblePop
...
Truly I need some of her energy. It was a pleasure to work with Nikki...
Thanks to Michael and Sonia for helping us out we truly appreciate it!! Thanks again to all of the sponsors/contributor's!!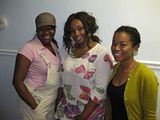 Stay tuned for more updates throughout the week!